CHICAGO (PRWEB) OCTOBER 26, 2020
Update: Gold Coast Exclusive and Gold Coast Real Estate Are Now Luxury Living International. Luxury Living International specializes in the ultra-luxury real estate market in both Chicago Metro and South Florida regions.
Haute Residence is pleased to welcome Kristine Farra to the exclusive Haute Residence Network as its representative in the Chicago, Illinois luxury real estate market.
Kristine Farra is the founder and CEO of Gold Coast Exclusive Real Estate (now Luxury Living International), a Chicago-based brokerage specializing in Chicago Metro and S Florida ultra luxury properties. Kristine has been involved in the Real Estate Lifestyle + Marketing Sector for over 20 years and is known for her unsurpassed knowledge of this dynamic market, offering the most comprehensive as well as ultimate custom marketing programs.
Kristine received her doctorate from Northwestern University, and with an international background maintains a global perspective, and speaks 3+ languages.
She is a nationally and locally recognized Top Residential Producer and as a luxury specialist, has been featured in many publications, including: The Wall Street Journal, Madison's Who's Who, Crain's Chicago Business, Chicago Social, The Chicago Collection, Real Estate Executive, Chicago Agent, Pinnacle Magazine, CS Modern Luxury, Ultimate Address, Michigan Avenue Magazine, and more. Kristine has also been featured on HGTV House Hunters, elevating the show concept to cater to a higher level of demographic with Million Dollar Chicago Power-Shopping Shopping On The Magnificent Mile.
In keeping consistent with giving back to the community, Kristine is actively involved in social and philanthropic circles by supporting many non-profit organizations including board positions with The Hippocratic Cancer Research Foundation, The Service Club Of Chicago, and Financial Policy Council. Kristine is past gala Chair for Bear Necessities Pediatric Cancer Foundation as well as actively involved in both the Inaugural Chicago Beach Polo World Cup as well the following 2011 Chicago Beach Polo Cup.
Gold Coast Exclusive has recently launched its Seller Concierge and Buyer Concierge programs: whether relocation or 2nd or 3rd homes, leave the details to them!
Visit Kristine Farra's Haute Residence profile: https://www.hauteresidence.com
Visit Kristine Farra's website: http://www.GoldCoastExclusive.com
ABOUT HAUTE RESIDENCE
Designed as a partnership-driven luxury real estate portal, Haute Residence connects its affluent readers with top real estate professionals, while offering the latest in real estate news, showcasing the world's most extraordinary residences on the market and sharing expert advice from its knowledgeable and experienced real estate partners.
The invitation-only luxury real estate network, which partners with just one agent in every market, unites a distinguished collective of leading real estate agents and brokers and highlights the most extravagant properties in leading markets around the globe for affluent buyers, sellers, and real estate enthusiasts.
Haute Residence has grown to be the number one news source for million-dollar listings, high-end residential developments, celebrity real estate, and more.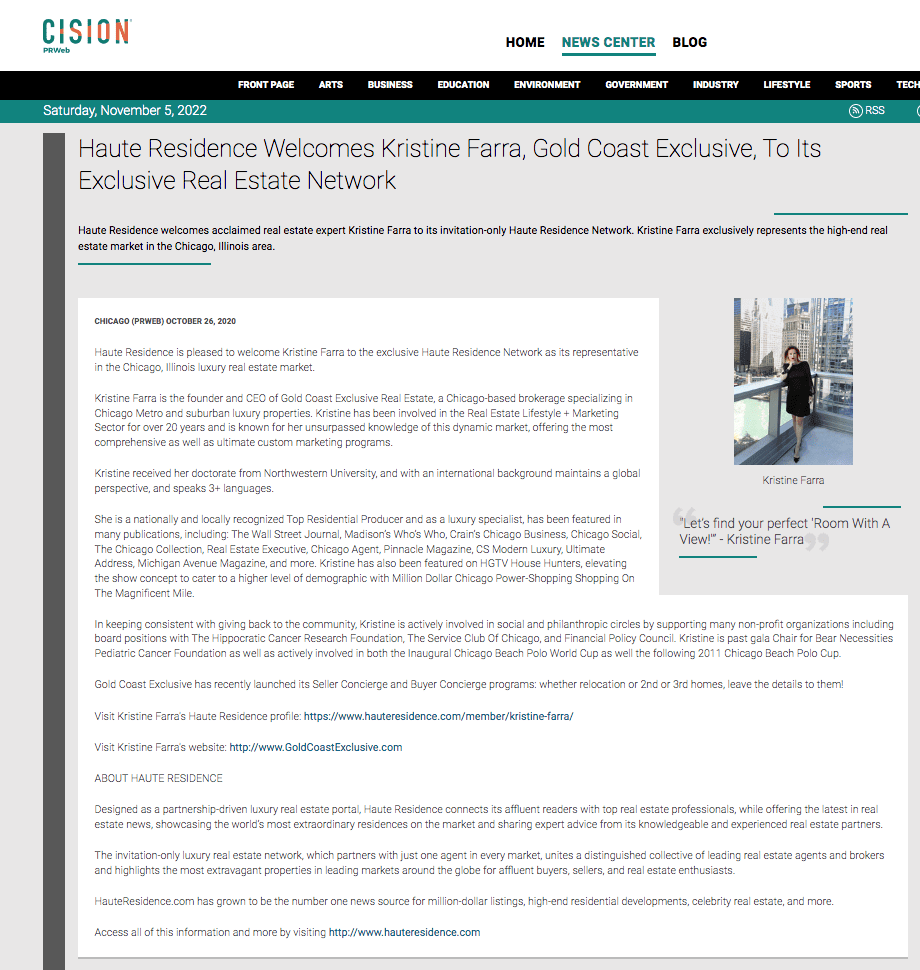 ultra luxury living international real estate - ultra luxury real estate - luxury homes - chicago real estate - gold coast luxury real estate - relocations - sports relocation - kristine farra - gold coast exclusive - luxury residential - luxury penthouses - miami florida real estate