New Chicago Restaurants To Add To Date Night This Year!
Hop Butcher for the World
4257 N. Lincoln Ave.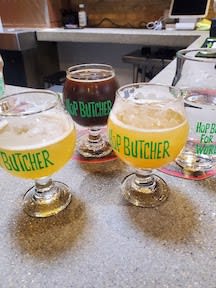 This seven-year-old brewery opened its first taproom in November, taking over Half Acre Beer's old space in North Center. Hop Butcher canned most of its beer previously, unlike the typical Illinois craft brewery—which gets about 70% of revenue from taproom sales—and that helped it weather COVID-19 shutdowns. Plus, Hop Butcher had a built-in following. People lined up at 4 a.m. on the taproom's opening day, says co-owner Jeremiah Zimmer. Inside, they found whispers of Half Acre with a Hop Butcher spin. Look for a second Hop Butcher taproom coming soon to Bedford Park.
Indienne
217 W. Huron St.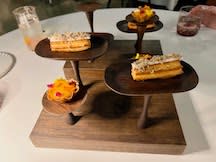 Born in Calcutta and trained in London, Delhi and Bombay, chef Sujan Sarkar is glad he opened his Indian fine-dining restaurant in Chicago. "I've met a lot of diners that never tried Indian food," he says. "The introduction should be done right." Indienne opened in River North in September. It offers tasting menus—vegetarian and non-vegetarian, for $95 and $105, respectively—wine pairings, cocktails, a la carte dishes and an opulent tea service. The food is traditionally Indian, but with a modern and progressive twist.
LeTour
625 Davis St., Evanston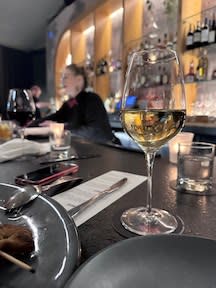 Less than two months after Amy Morton closed Found Kitchen & Social House in Evanston, she opened her new French-Moroccan place, LeTour, just around the corner. The turnaround was quick, but it let Morton keep her staffers employed. It's all fitting for LeTour, which roughly means "to turn" in French. Chef Debbie Gold worked with Morton at her first restaurant, Mirage, which opened in 1989. "LeTour is all about coming full circle for me," Morton says. The menu is light and fish-centric, with a few meat dishes such as lamb couscous. It's in an old bank building, designed for a buzzy vibe. Think "Andy Warhol on the French Riviera," Morton says.
The M Room
456 N. Clark St.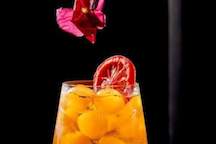 The team behind River North's Roka Akor opened a restaurant next door in mid-December that pays homage to Scotch whisky The Macallan. In addition to offering the requisite wine pairing with its $185, 10-course tasting menu, The M Room pairs Macallan cocktails and neat pours of hard-to-find whiskies. (Beverage pairings are an additional $145.) The menu itself was crafted specifically to highlight the flavors and ingredients used to make Macallan, like barley and oak. Owner Sunny Mehra, himself a Scotch afficionado, says the idea came about after hosting several whisky-focused dinners at Roka. For those not sure about the full indulgence, there's a bar menu with finger food.
Omakase Room at Sushi-san
63 W. Grand Ave.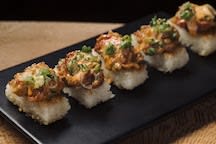 Lettuce Entertain You wanted to get away from the intimidation of a typical omakase experience, so it designed Omakase Room to make customers feel like they were attending a dinner party at master sushi chef Kaze Chan's home. The 700-square-foot space, which was used mostly as a storage closet before the restaurant's February opening, seats 10 guests at a time. They are served 18 courses for $250, and the menu changes nightly, says managing partner Amarit Dulyapaibul. If the chef wants to bring in an 8-pound line-caught hamachi, he can use just the fatty part of its belly and send the other 7 pounds to the 140-seat Sushi-san downstairs.
Sophia Steak
181 E. Laurel Ave., Lake Forest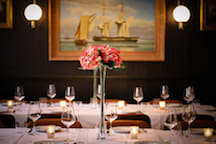 The second outpost of North Shore steakhouse Sophia Steak opened in October. The inspiration and motivation? The success of the first location, about 17.5 miles away in Wilmette. Ballyhoo Hospitality expanded into the North Shore during the pandemic, and this marks the group's fourth restaurant there. It is capitalizing on the new demands coming from suburbanites for city-style restaurants, as work-from-home schedules stick and fewer folks commute downtown.