Rotating Car Displays & Hangars. Included
If you ask any enthusiast, be it a car collector or a wine lover, showcasing your hobbies and passions in the same space you live is an incredibly important facet of buying or designing a home. Many car collectors, for example, forgo your typical two-, three- or even four-car garage in favor of larger-than-life multi-car garages that could easily fit a mansion. Not only that, but some hardcore enthusiasts have gone further to create car lifts and rotating displays that showcase their automobiles like art. Many new luxury residential towers are partnering with luxury automotive brands, such as Porsche Design Tower in Miami, to apply the same level of craftsmanship and design details from its luxury cars to the residential experience. In another example, Bentley Residences, the world's first Bentley Motors co-branded residence features a patented multi-car elevator lift and in-unit multi-car garages whether you live on a lower floor or the penthouse. In the market for your own auto-focused abode? Look no further than our definitive list of impressive homes designed with auto enthusiasts in mind.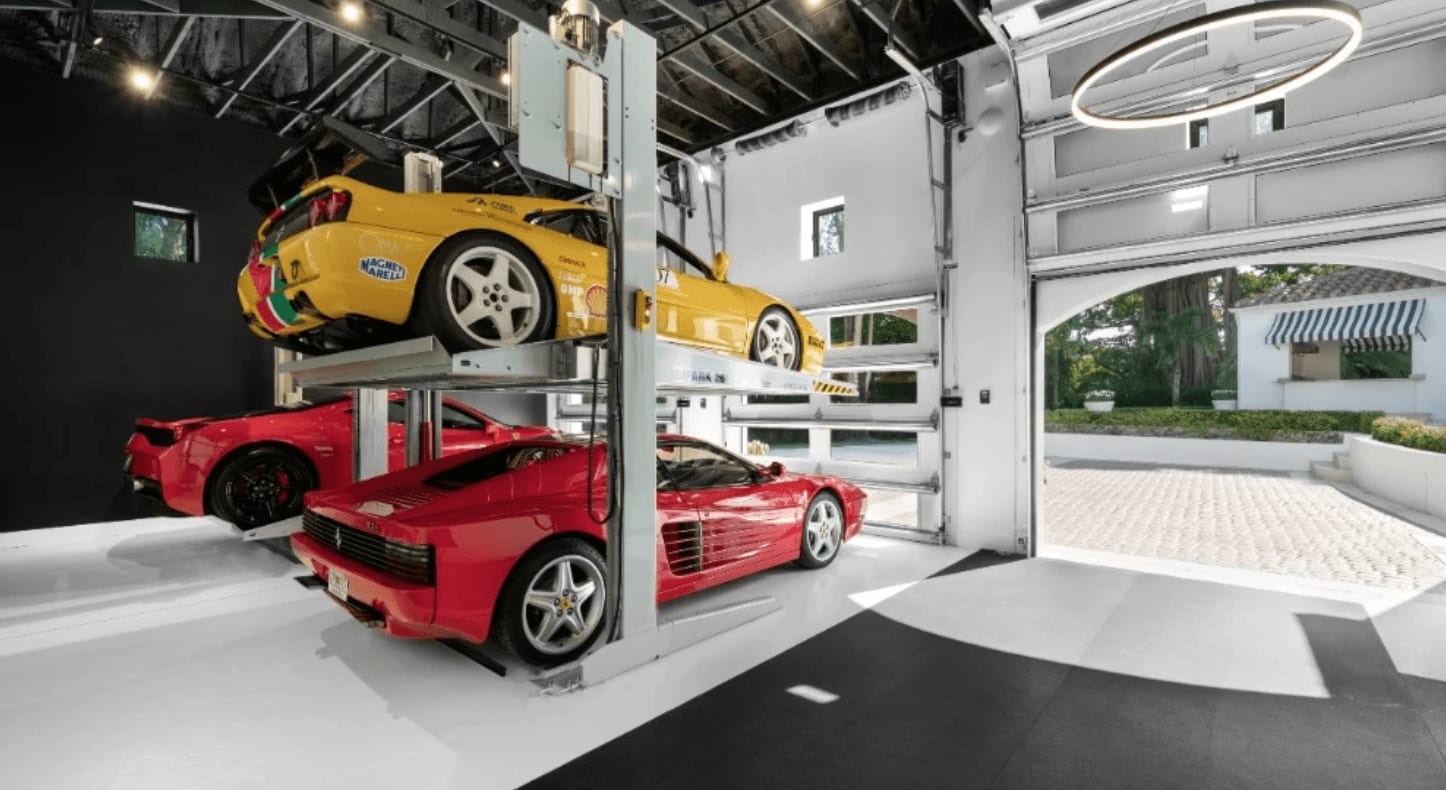 9400 OLD CUTLER LN CORAL GABLES
Situated in a private, guard-gated community, this lush property in Coral Gables is the ultimate home for hobbyists of any kind, from boat enthusiasts to oenophiles to car collectors. Listed for $28 million, the property comes with an assigned 70-foot boat slip; there's also a wine cellar and a stunning custom bar. Most notably, there is a two-story, climate-controlled garage with two car lifts, 18-foot ceilings and custom lighting.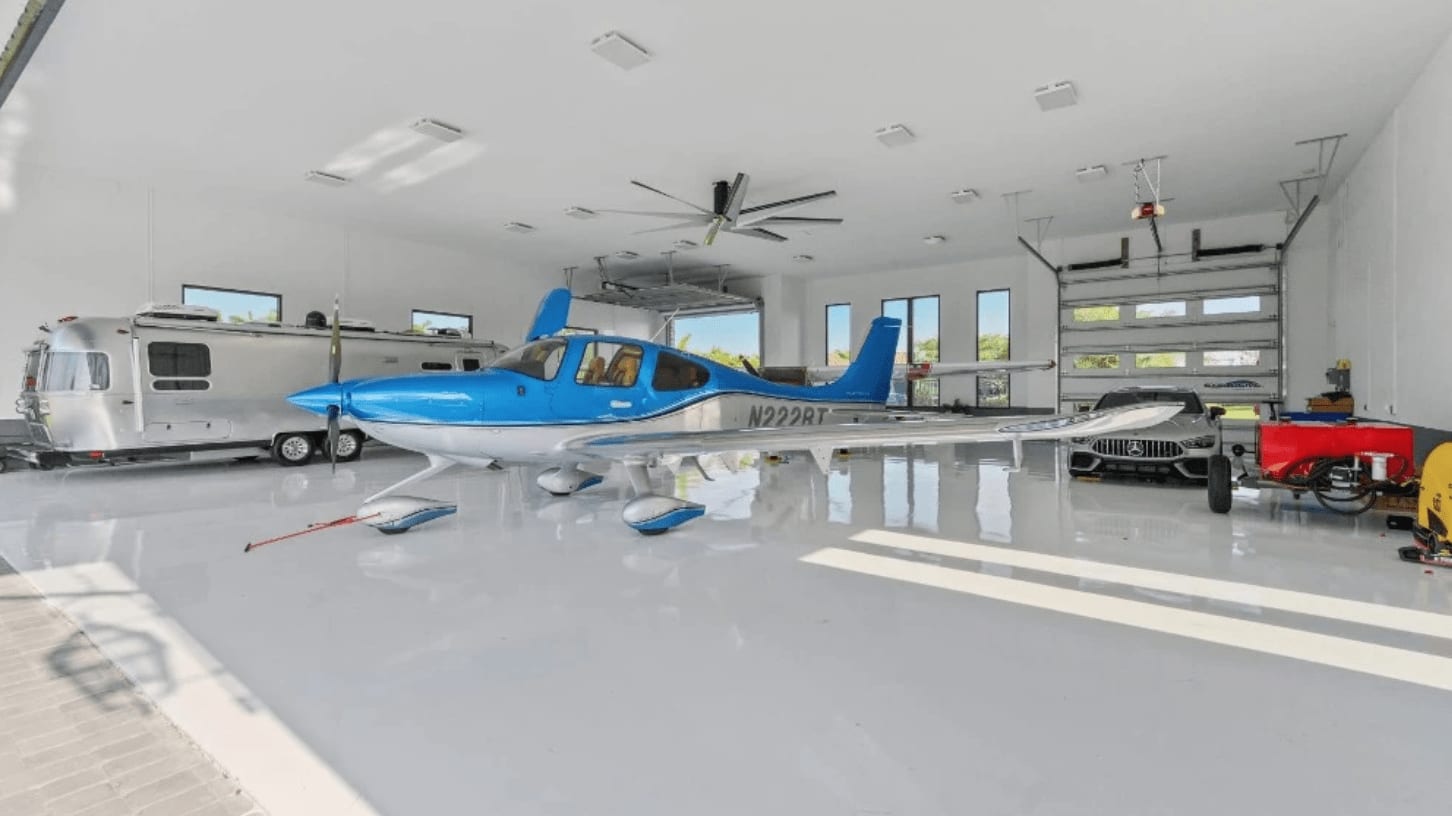 THE LANDINGS AT WELLINGTON
15945 Weatherly Road
Wellington Fla
This aviation estate also has room for dozens of cars.
It might be the ultimate aviation estate, located within the prestigious Aero Club, but the $10 million home in Wellington, Florida, has so much more on offer. The elegant home has a classic feel, with stark white interiors and fine materials, and allows you to store your most prized modes of transport just next door. There's a five-car garage with a lift for a sixth car but just nearby is a 4,500-square-foot insulated hangar with 22-foot ceilings. The hangar can fit two small planes, or one jet, as well as a full-size RV. You could also fit up to 25 cars on the grounds, between the hangar and the paved motor court. Should you want to land a helicopter, there's also ample space to do that, as well.
BENTLEY RESIDENCES
You'll likely never need to go through the front door if you live in one of the residences at Miami's highly anticipated Bentley Residences. The residential tower marks the luxury motor company's first branded residence and, though its completion date is a few years out, the building's car elevators—the Dezervator, named after Dezer Development—are highly anticipated. There is a car elevator that whisks you directly to your apartment, and the in-unit garages, which connect directly to your residence, have room for up to four vehicles. If you're afraid of heights, this feature might not be for you; there are car elevators on every floor.